One-stop Centre for New Homes, Remodels
and General Home Fix Up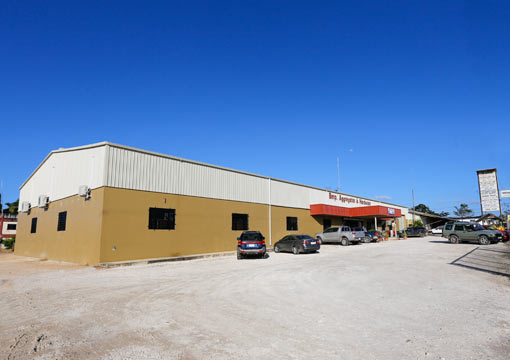 Your leading building material and hardware supplier in Belize
Belmopan Aggregates & Hardware is a leading building material and hardware supplier for all Belizeans. We are here to help you build a home or workplace, and cater to your A-Z needs in and around your home & business. At Belmopan, we understand quality is important when it comes to building or fixing anything. This is why we offer only high-quality products to you. We offer efficient and excellent repair services for hardware. Our products are supplied by top manufacturers in the industry, including Husqvarna, Makita, Grizzly, Hitachi, Meilun, Ecox, Gloc, Hillman, Westinghouse, Homelite, Speed Queen, Irwin, Maytag, Centron, Generac, Dewalt, Truper, Lincoln, Hurrican, Liquid Wrench, Frigidaire, Smith & Wesson, Little Giant, Afosa, Mason, and many more.
Why run around looking for building materials and hardware? Just give us a call, tell us your requirements, and we will get it delivered anywhere you want us to in Belize.
Our History
In 1990, Menno, Frank, and Levi Penner saw an opportunity to sell sand and gravel due to an increase in infrastructural development in Belmopan and its surroundings. Initially, they started off small, hauling sand and gravel with one tractor that had a back scoop and inquiring at different construction sites if there was a need for these materials. The brothers then decided to diversify, and in 1995, they started selling chain link fencing materials and roofing. They then built their first building on Forest Drive, Belmopan and named the business Belmopan Sand and Gravel.
The business had experienced a rapid growth, and in 2008, management saw the need to construct a larger facility from where the business will operate. This new facility was officially opened to the public, and the business was renamed "Belmopan Aggregates and Hardware" (BAH). BAH continued the process of diversification and now sells building materials, hardware, lawn equipment, motorcycles, and a wide variety of other products such as electronics, appliances, air conditioning, building tools, etc.
Why Choose Us?
We are dedicated to providing the best customer service
We aim to meet your needs and goals
A wide array of products from some of the best brands
Serving construction companies and home renovators alike
Right advice for your projects from knowledgeable staff
Competitive prices
Fast delivery
Prompt hardware repair service
Conveniently located